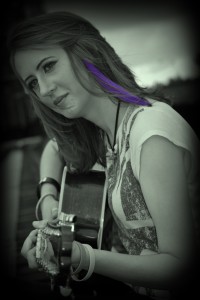 I make music. But not because I think I'm good at it, and not because I want to become rich and famous. I make music because I can't not make music. It's my passion. An undying passion which defines my life and exemplifies my relationship with God. And for me, what it's all about is honoring God and glorifying Him.
As an extension of that, my goal is to help people and reach people. You don't have to look far to see that there is a great lack of love among people, including Christians. People see the Church as a country club full of judgment and hypocrisy — and sadly, they're not very far off in their estimation. But there are those of us who want to change that, who desire to truly live out what the Bible actually says, who believe in unconditionally loving everyone, without bias — loving people like Jesus did. That's me. Or rather, it's God through me.
If I had to describe my music, I would use the following selection of words: worship, honest, pure, and real. Everything I do is in worship to God, especially my music. When I write, I never try to force rhymes or write a hit song; I'm simply honest with the words and the melody; I write what's in my heart — nothing more, nothing less. I don't let the influence of my music be tainted by what's popular, I just keep it pure. And I keep it real — I don't try to create a false image or a mask; there's enough of that in the world already.
I know I'm not a Grammy-quality vocalist, and I don't aspire to be. My only aspiration is to follow my passion, worship my God, and share my journey with others along the way.
To God be all the glory, always and forever and in all things.
Katie Woodward